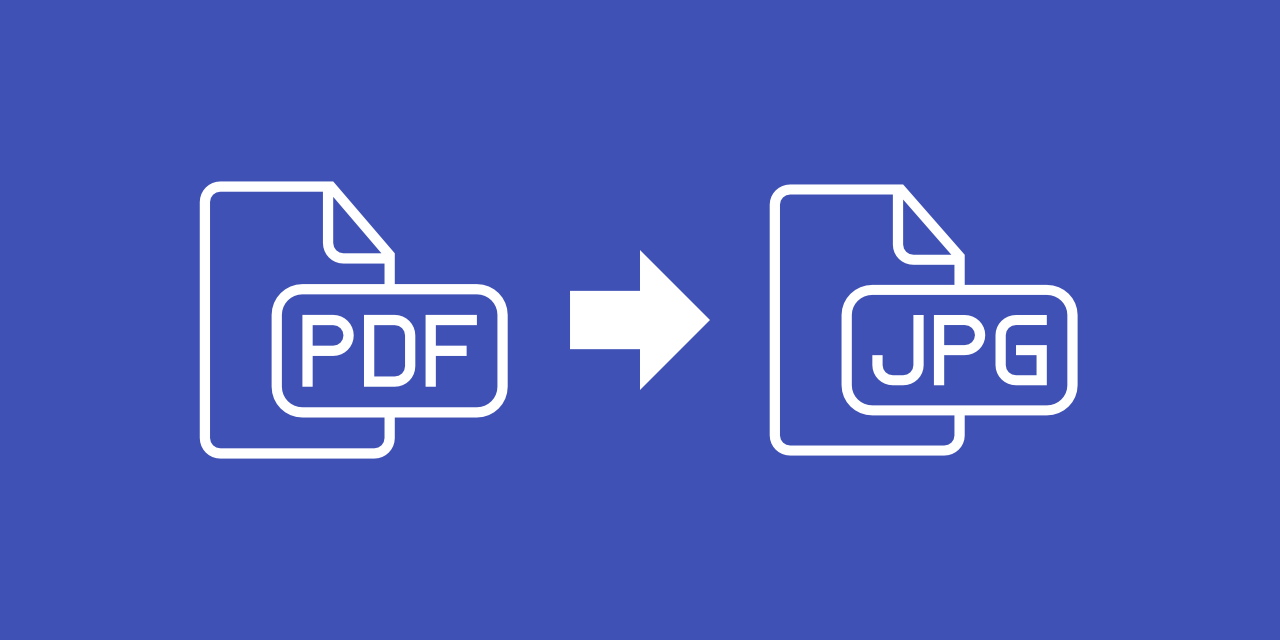 Picture this: you are facing a PDF document brimming with valuable images, and the need to extract them quickly and effortlessly arises. Whether you are a professional navigating complex reports or a student working on a visual project, the ability to easily extract images from a PDF is a skill that can save you time and enhance your workflow.
In this article, we will guide you through a simple process and help you obtain the visual gems within your PDFs.
So, let's begin!
Why Extract Images from a PDF?
The need to extract images from a PDF can serve various practical purposes:
Precise Image Editing: Ensure meticulous image editing for your projects.
Content Reuse: Repurpose specific visuals in different documents or presentations.
Enhanced Research: Incorporate pertinent images into research findings.
Quality Preservation: Maintain image quality and integrity for printing or legal documentation.
Extracting images from a PDF offers numerous possibilities:
Seamlessly integrate them into other documents.
Work more flexibly with dedicated applications.
Store images for future use within a file.
Thanks to online tools like PDF2Go's - Extract Assets, this process is simplified and accessible to all.
The Advantages of PDF2Go's – Extract Assets Tool
When it comes to extracting assets from PDF documents, PDF2Go's Extract Assets tool stands out as an invaluable resource. This online extraction tool offers a range of advantages that make it a top choice for users seeking convenience and efficiency.
User-Friendly Interface: PDF2Go's Extract Assets tool features an intuitive and user-friendly interface. Whether you're a seasoned professional or a first-time user, you will find the tool easy to navigate.
Accessibility: One of the key strengths of PDF2Go is its accessibility. As an online tool, it's accessible from any device with an internet connection and a web browser. In other words, you can extract images and assets from PDFs from your desktop, laptop, tablet, or even your smartphone.
Versatility: "Extract Assets" tool is not limited to just images. It can also extract text, fonts, tables, and other valuable assets from PDF documents. This versatility makes it a comprehensive solution for various content extraction needs, ensuring that you can obtain all the valuable elements you require.
Time and Effort Savings: The tool's streamlined extraction process saves you valuable time and effort. With just a few clicks, you can upload your PDF, initiate the extraction, and download your extracted assets as individual files.
Security: PDF2Go prioritizes the security of user data and documents. It uses secure connections to protect your content during the extraction process. Your information remains safe and confidential.
No Installation Required: Unlike some desktop software solutions, PDF2Go's Extract Assets tool requires no installation or downloads. This means you can start using it immediately without the need for complex installations or updates.
How to Extract Images from PDF using PDF2Go
To extract images from your PDF, do the following: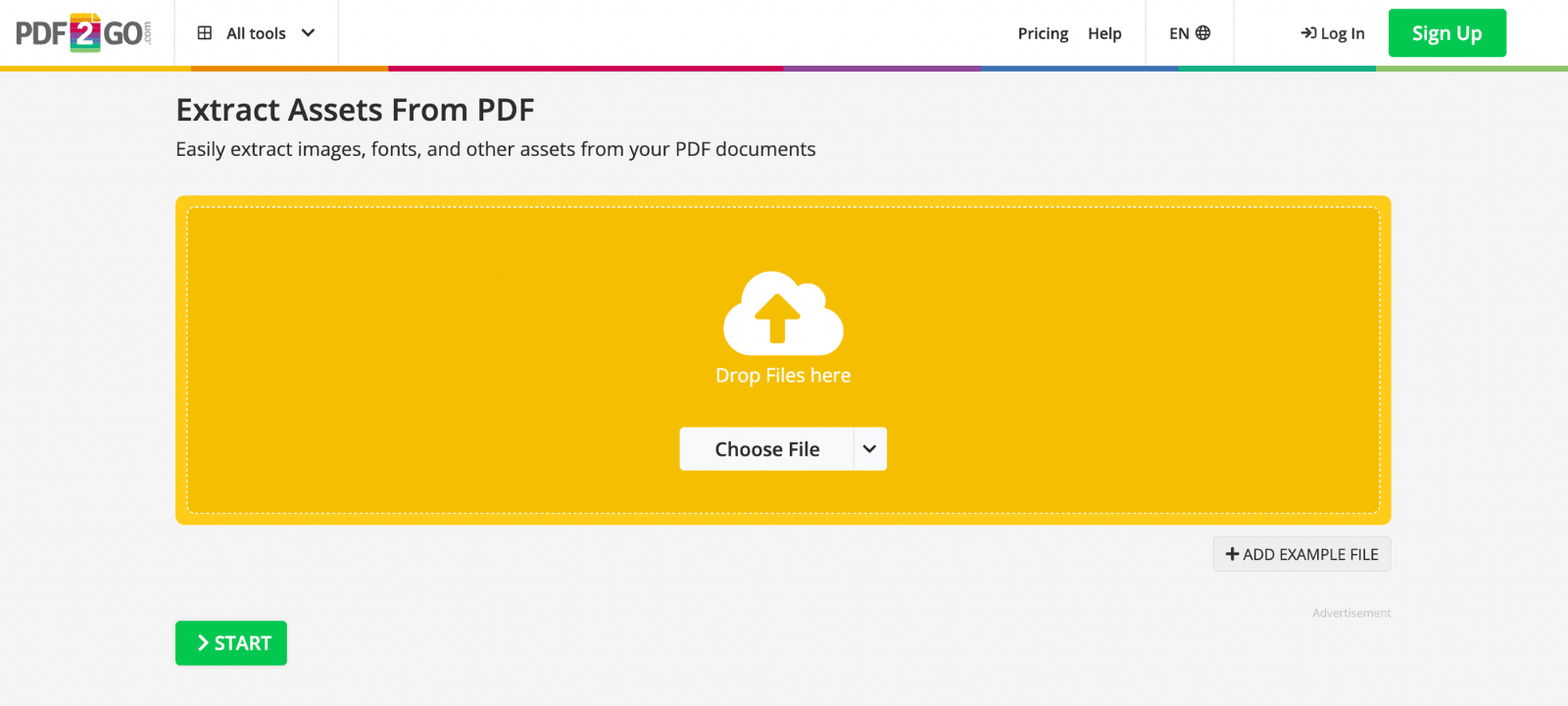 Go to Extract Assets.
Click "Choose File" to select the PDF file you want to extract elements from. You can also drag and drop the PDF file onto the platform. Uploading a file directly from the Internet (via URL) or from cloud storage services such as Google Drive or Dropbox is also an option.
Click "Start" to initiate the extraction process.
On the result page, locate the .jpg files.
Download them as individual files.
You can further choose to upload the files to your cloud storage or easily download them to your phone using the provided QR code. It's that simple!
Conclusion
What was once a formidable challenge, extracting images from PDFs, has now become an effortless task. PDF2Go's Extract Assets tool, with its user-friendly interface, accessibility, and versatility, simplifies this process. Enhance your PDF experience, reclaim precious time, and amplify your productivity with this essential tool. Start extracting images and other elements from your PDFs right away!
PDF2Go: Your Go-To Free Online PDF Editor & Converter
Whether you are a student, a professional, or simply someone who frequently handles PDFs, the assistance offered by PDF tools is immeasurable.
With a versatile suite of over 20+ tools, PDF2Go caters to your every document-related need. User-friendliness defines its design, guaranteeing that even the most intricate tasks are simplified with just a few effortless clicks.
Are you looking to optimize your PDF for the web or to make your PDF searchable? Need to compress and protect your PDF files? PDF2Go has got you covered!
And the convenience does not stop there – PDF2Go goes above and beyond by providing the ability to convert files to PDF/A, ensuring long-term achievability.
In a world where time is a precious commodity, PDF2Go emerges as a valuable time-saving option - streamlining the management and conversion of your PDF documents!