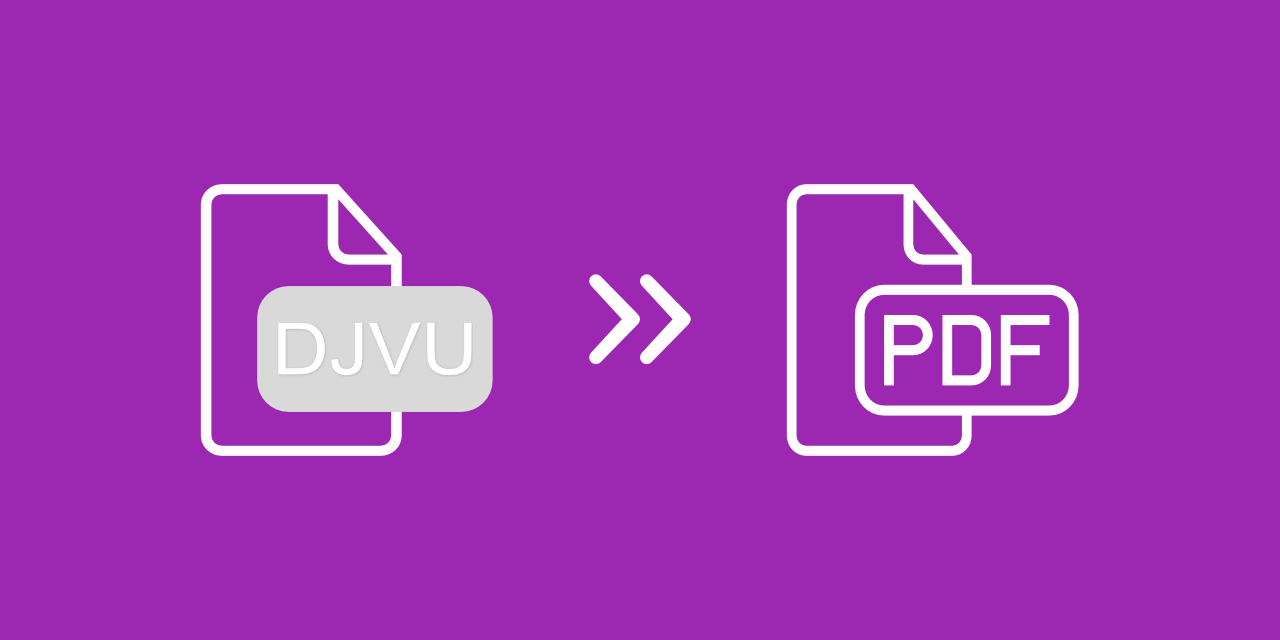 If you often download ebooks and manuals on the Internet, you have probably come across a file format called DJVU. When aiming to save scanned copies of books in bulk or exchange a considerable number of ebooks online, DJVU is a suitable file format. However, there is one significant disadvantage – DJVU documents can not be opened on a computer, smartphone, mobile device, or Kindle.
For this reason, you may wonder how to convert DJVU to PDF format, which is more recognizable and widely supported. Is there also no possibility or need to install a program that allows you to open .DjVu files? Then you definitely should consider learning about the most convenient method for converting DJVU to PDF.
What is DJVU?
Developed at the AT&T labs, a file with the .DjVu file extension (or .DJV) is a graphic format intended for scanned images. It can contain compressed but high-quality color images, photos, text, and line drawings. It is therefore used as a format for e-books, as well as manuals, newspapers, scientific literature, etc. The compression ratio of color documents in the .djvu file is 5-10 times higher than in .jpeg and 3-8 times higher than in .tiff compression. The DJVU file format allows the distribution of high-resolution images through the internet.
These features also make it an appropriate open-source alternative to Adobe's PDF. Files with the DJVU extensions can be separated into three different kinds of images - background, foreground, and mask image with a higher resolution. Since DJVU files can separate images and text into different layers, one layer can only be used to hold the OCR text, allowing you to search and copy text from the file.
How to Convert DJVU to PDF?

Here's how you can easily turn your files with a .djvu file extension into PDF documents using an online DJVU to PDF converter:
Go to PDF2Go.com and choose DJVU to PDF online converter.
Upload your DJVU image.
To extract the text from your image, choose "Convert with OCR" (optional).
To get the best results, select the language of your file (optional).
Click on "Start" to convert DJVU to a PDF file.
Is This Service Free?
When converting DJVU to PDF with the PDF2Go online converter, it is necessary to note that the 'Convert with OCR' option is available exclusively to our premium users. By selecting it, scanned pages will be converted to text that can be edited.
Our online service is free for casual users. For the more frequent use of the PDF2Go online tools, you can remove all the limitations by choosing one of our Premium plans.
Benefits of going Premium:
get access to the entire suite of PDF tools,
work with documents up to 4GB in size,
get access to our Desktop App,
the batch processing (up to 400 files),
unlimited amount of tasks per day,
unlimited use of the OCR feature,
advertisement free website, and much more!
If you are looking for easy-to-use PDF tools for document conversion and editing tasks, PDF2Go can help you achieve your document goals in no time, on any device or browser. PDF2Go's website is visited by approximately a million users each month, and our trusted online service is 100% secure.